Stress Free New Home Construction the Modular Way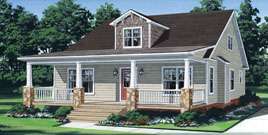 If you are considering building a new home in the Virginia area, consider building a modular home. Not only is the experience worthwhile, watching your dream home come to fruition; but the cost effectiveness makes it worthwhile as well.

Often when buying a new home, many modifications and home improvement projects need to happen in order to make the home resemble the home you want. As you know this often takes years of "construction zone living" and it takes a lot of money.

Traditional new construction can take a year or more from start to finish. While many who have chosen this route are pleased with the product, the vast majority have not enjoyed the route.

Modular home construction is different altogether, it is far more stress free, and far more cost effective. From the beginning phases to "move-in condition" will take just a couple months. You can custom design your modular home. At the end of that process, the home is then built in a factory, no "construction zone living" for your family. Once completed, you can see your home assembled on your property in just a few days.

For stress-free new home construction with less hassle, less time and for less money, contact Tidewater Custom Modular Homes.