Standard Quality Features of A Modular Home
This blog post will serve those who have a good eye for renderings but want to reassure those of you who don't that we can personally demonstrate everything discussed here in today's post.
You win when you compare the list of standard features built within the Tidewater Custom Modular Home (that we build across Tidewater Virginia) to the features contained within any other builder's product description. Here's an rendering of a typical custom modular home in cut view.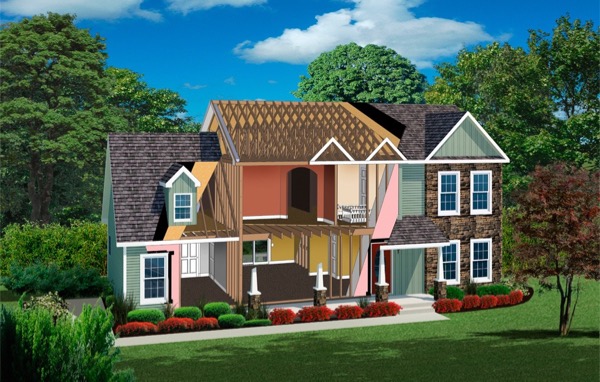 If you closely examine the image, you'll see a number of the following standard quality features that are present in our modular home floor plans.
Vinyl Siding and Accents - comes in various styles and colors; requires low upkeep
Low-E Glass Windows - it can add accent to the home while preventing energy loss
30 Architectural Shingles - contributes beauty to the exterior look of the home as it provides durability to the roofing at the same time
Shingle-Over Ridge Vent - provides optimal ventilation to roof cavity
Roof Truss System - fully-engineered trusses are lifted at the actual site and complies with location-specific criteria including snow pile and wind zones
Half-Inch Roof Sheathing with H-Clips - provides extra sturdiness to the roof construction
12-inch Eves - adds beauty and protection for doors and windows
Spray Foam Insulation Around Wiring and Plumbing - the insulation helps prevent air infiltration
Blow-In Ceiling Insulation - it keeps the home energy-efficient; Batt-insulation is also available.
12 Inch Overhang with 2x6 sub-facia - provides solid-framing for gutter installation
Exterior Insulation - R-19 fiberglass batt insulation is applied to exterior walls. While R-21 insulation can also be used as a substitute for special local codes.
2" x 6" Exterior Wall Framing with Blocking in Cabinet Areas - For extra insulation values superior strength and a quieter home.
Stairs with Railings - are built using premium hardwood
APA Approved Tongue and Groove OSB Floor Decking - enables for a firm foundation to accommodate any type of floor finish is used.
Insulated Fiberglass Exterior Doors - comes in a wide array of styles and colors; they are upkeep-free and come with composite jambs and integral brick mold.
Breathable Exterior House Wrap - Keep air infiltration at minimum and helps in making the home more energy-efficient.
KCMA Approved Cabinetry - Tidewater Custom Modular Homes always feature exclusive legacy crafted cabinetry.
2x4 Interior Partition Framing with Closet Shelf Blocking - the framing provides extra strength and stability to the structure.
200 Amp Main Panel with Circuit Breaker - to meet all modern electrical codes.
Value for your home building dollar anywhere in Tidewater Virginia starts with a call to us here at Tidewater Custom Modular Homes. There is so much to know and appreciate about this truly spectacular building process and product. It's indeed our pleasure to show them off!