Shelton Creek Ranch Style Floor Plan has Every Feature in Its Right Place – Yorktown, VA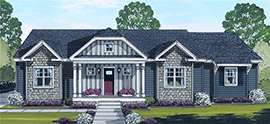 If you build a Sheldon Creek ranch style modular home in Yorktown, VA, you will have a home that has every feature in its right place. You can really say that the 2009 sq. ft. is optimized and custom-designed so that every part of this modular ranch is spacious and stylish.
The 2009 sq. ft. Shelton Creek ranch style floor plan has 3 bedrooms and 2 bathrooms, making this ranch perfect for a huge family. The master suite, along with the master bath, is situated on the left wing of this ranch. The kitchen space, dining area, and living room at the center separate the master suite from the two smaller bedrooms that are placed at the right wing.
Modular home construction ensures that you will have both the interior and exterior aesthetically pleasing and fully functional. For instance, you will have a master bath that is relatively larger than the main bathroom and it is for a reason. It is big not only because it is the master bath but because it has a walk-in shower or an optional infinity shower for the parents so the space is fully utilized. The smaller bedrooms that are perfect for kids may not have a walk-in shower but it has a bath tub that is great for playful kids.
To find out more about Shelton Creek ranch style floor plan, contact Tidewater Custom Modular Homes.