Ranch Style Modular Homes Provide Single Story Living at Its Best – Virginia Beach, VA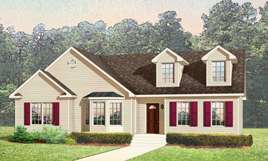 The Ranch modular homes in Virginia Beach, VA are customized according to your particular preferences. These single story modular homes include all the comforts in their modern or timeless layouts as if you are living in a hacienda.
Custom modular ranch-style homes are often referred to as Rambler or Rancher. They usually contain sizeable bedrooms and bathrooms that are strategically located to maximize the floor area, making room for the rest of the parts of your home. The floorplans are so flexible that you can add, remove, or change certain features in their standard building specifications.
Ranch style modular homes provide single story living at its best. They are customarily only one level high which makes them more convenient to modify in the future as you can simply build a second floor on their current level. Even if they are considered large, these custom-built modular homes are built in a controlled environment so they are faster to finish without compromising quality and be ready for your occupancy in no time.
If you are interested in browsing various Ranch-style modular floor plans and designs, visit Tidewater Custom Modular Homes.