Ranch Style Modular Homes are Perfect for All Ages – Suffolk, VA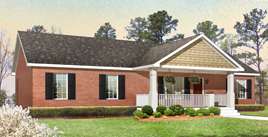 Ranch style homes have been widely popular in the 1950s. Now, they are making a huge comeback especially that modular home construction have included them in their selection of homes.
Ranch style modular floor plans are the common choice of first-time homebuyers, baby boomers, and many in between. They are quick to build and affordable to buy. So even if two-story homes and mega-mansions grab interest in the housing market, these ranches never really rank last. They can look good inside, out. Aside from the pre-defined ranch style modular floor plans, you can also benefit from a wide array of options for customization so you can be confident that you will be able to custom-build one that you can call uniquely yours.
Ranch style modular home in Suffolk, VA are not only perfect for starters but also for retirees mainly because it is a single-story home. A lot of older adults would want to avoid the stairs that is why they find ranches a good choice. So for a simple yet comfortable home living experience sans the stairs, ranch style modular floor plans are definitely a great and practical choice for all ages.
To find out more about Ranch style modular floor plans, contact Tidewater Custom Modular Homes.