Modular Kitchen Ideas Let You have A Big and Beautiful Kitchen at Home – Surry, VA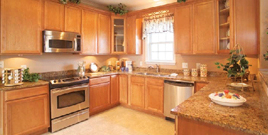 Before making the decision to buy, homebuyers consider hundreds of factors which include location of the house, its proximity to other places such as school and market, size of the lot, and even interior features. In fact, most people shopping for homes insist on a house that provides most of their needs but for some reasons often settle for less on the last minute, not getting everything they want. But the modular home construction industry gets homebuyers one step closer to their dream home by avoiding the tradeoffs of a less-than-desireable home.
When it comes to certain interior features, many homebuyers are willing to spend thousands of dollars above the price of the home just to have them included. A lot of them actually are willing to pay more for certain features if they did not already have them yet for the purpose of enhancing home living experience. Many of the features homebuyers desire involve the kitchen. Because a lot of interested homebuyers have shown more interest in having big and beautiful kitchen at home, the professionals working for Tidewater Custom Modular Homes have provided a wide array of modular kitchen ideas in Surry, VA.
The available kitchen gallery for modular homes offer options or ideas which you can take inspiration from. They include stainless steel appliance, kitchen island, countertop and lighting for island, pullout spray or gooseneck faucet on the sink, custom cabinets and drawers, window sill, raised bar top, crown molding, ceramic tile flooring, and many others.
To find out more about modular kitchen ideas, contact Tidewater Custom Modular Homes.