Modular Homes Interior Design Ideas Make Your Home have a Safe and Satisfying Indoor Space – Virginia Beach, VA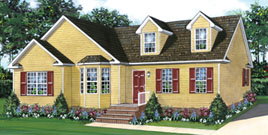 The interior design of your modular home in Virginia Beach, VA is very important. You have to ensure that the interior is properly designed so it will be appreciated by anyone who enters your home for a visit. Given all these, most people put much consideration to it when building or renovating houses.
There are some houses in which the interior designs are done poorly like the indoor space is not optimally utilized, but this is not the case with modular homes. With modular home construction, you will be given a wide range of modular floor plans to choose from. All these are strategically planned so that whichever you choose, you are guaranteed that the indoor space is optimized.
The cabinets in every bedroom and the countertop at your kitchen can be customized based on your lifestyle and cleaning them would be easier as well. The faucets, lighting, and other fixture will be properly placed to ensure a safe and livable place. Your modular home can also be customized to allot an area for a fireplace that is much useful during rainy days or winter nights. The floor coverings, interior doors and trim may also be included to add value to your home. There are actually several modular homes interior design ideas that you can get inspiration from if you want to build a new home or modify an existing one.
A great interior design for your modular home can make it even more beautiful and functional. To find out more about it, contact the experts of Tidewater Custom Modular Homes.