Modular Homes are Greener Homes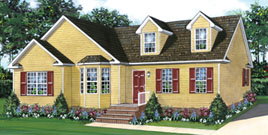 If you are interested in taking advantage of these low mortgage rates before they rise more, and you can't find the perfect home because new home inventory is so low, consider building a new home. In fact, with modular construction, not only will you build a custom designed home, faster and easier than a traditionally built home, but your new modular home will also be a green home.

Modular homes are a greener form of construction and they are far more energy efficient than their stick built counterparts. In addition to more energy efficient construction practices, modular homes also use only energy star rated appliances and windows which makes them greener than traditional homes. As a result you will spend less on energy bills and your home will remain a more constant temperature all year round.

Modular homes are far more energy efficient than traditionally built homes. Modular homes from Tidewater Custom Modular Homes offer you energy efficient living using construction methods that are above and beyond the standard and we can make your home even more green than even our standard when requested.

The modular construction process is more earth friendly as well. Because we buy our materials in bulk we use less energy in transportation. Because we have done this for so long, we know just what we need for materials. Our homes are built in a factory setting, so we have less waste and we are more efficient at making your home. This uses less energy. Additionally, because our homes are built indoors, there is no material waste caused by weather or theft.

If you are interested in buying a new home, and you want to take advantage of these low interest rates, but you just can find the home of your dreams, contact Tidewater Custom Modular Homes for a green home that is also the "perfect home".