Modular Homes are Custom-Built with The Same Durability, Longevity, and Quality as Traditionally Built Homes – Hampton Roads, VA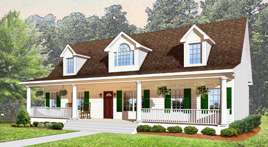 Modular homes in Hampton Roads, VA are sectional prefabricated residential structures that are manufactured in an enclosed facility where poor environmental factors are not allowed to hamper the prefabrication processes. Because there is no delay particularly due to extreme weather changes, the construction of the sections or modules is faster and better. They are then delivered in one or more complete modular sections to the permanent site chosen by the homeowner.
Contrary to traditional construction methods, modular home construction is a very cost-effective and a timely venue for quality production of residential structures. Because site preparation can be done simultaneously while the sections of the modular home are being fabricated inside the environment-controlled facility, the construction process is done faster than ever thereby guaranteeing that the project will be completed within a set timeframe or earlier than that without compromising quality.
Aside from reliable timeframe or shorter construction time, you can be confident that your modular home is custom-built with the same durability, longevity, and quality as you would with conventional construction. A state-of-the-art facility that integrates nothing but the best practices in design and workflow is utilized in order to ensure that your modular home is not only custom-built based on your personal preference but also able to meet the same building codes as traditional construction.
To find out more about modular home construction and floor plan options, contact Tidewater Custom Modular Homes.