Modular Homes are Custom-Built and Checked by Several Engineers and Professionals – Chesapeake, VA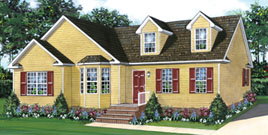 Modular construction has developed effective means to improve output in every project. Such an advanced method of construction has also paved the way for a more streamlined building process and minimized time and money required to finish a modular home.
Creating a safe, durable, and beautiful modular home in Chesapeake, VA is part of the advantages that you will benefit from when using modular home construction. By controlling all aspects from the production of modules to the installation at the permanent site, you will be guaranteed of a modular home that is custom-built to meet not just your personal preferences but also the highest possible standards. Each style of modular home is built and inspected by several engineers and professionals for its integrity and compliance with local, state, and related codes.
Modular construction has been widely used over the last couple of years. In fact, it now offers a wide array of modular floor plans. So whether you want a ranch, colonial style, two-story, cape cod, multi-family, vacation home, or even an office space or commercial building, you will surely get that custom-built with the help of the home builders and contractors.
Modular construction can be used not only for residential projects but also commercial and industrial applications. To find out more it, contact Tidewater Custom Modular Homes.