Modular Homes are Built Faster and are More Energy Efficient - Virginia Beach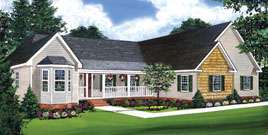 Modular homes are energy-efficient custom designed homes. These homes are built from the inside out, which makes them more energy efficient than stick built homes. In fact, the air-sealing and insulation is done before the home even leaves the factory.

Normally, site built home with an attached garage can take anywhere from 8 months to a year to complete. With modular construction, that same home can be completed in 10-12 weeks once the design process is complete. Modular construction is the way to get a faster, more energy efficient, well insulated home that is cost effective

The Process-

Three months before construction begins, the homeowners and the modular home company begin the design process. This includes designing a floor plan and deciding on amenities and design details.

The next month is spent working to develop in-house architecture based on the chosen modular floor plan. Those design details are then sent back to the factory, where changes are made. The home is then constructed using the modular process.

The modules are then delivered to the building site. Four modules can be set in one day. The roof, is then installed.

On day two and three, the garage can be added and the modules are connected to each other and the foundation. Other framing details can be started and often completed as well, depending on the size of the home. Roof shingling can also be started, and possible completed.

After these tasks are complete, the set crew can finish the roofing, hang interior doors and install the siding. Air gaps are sealed with a specific focus on the walls between the modules.

As you can see, by building a modular home construction time is decreased immensely and home is protected from the elements because it is built indoors.

For information on building an energy efficient custom modular home in less time, contact Tidewater Custom Modular Homes.