Modular Home Constructions Offer Kitchen Design Ideas That You Might Want to Consider – Hampton Roads, VA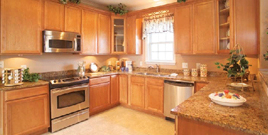 Modular home construction in Hampton Roads, VA offers a wide selection of floor plans for ranch style homes, cape cod home, vacation style homes, estate homes, and two-story homes. Such a selection also comes with various options for customization so that if you wish to own a modular home, you will be able to call it uniquely yours because it has been custom-built based on your specific requirements and preference.
You will be shocked how this non-traditional mode of construction is so particular to details even on its kitchen design. In fact, there are available modular kitchen ideas you can choose from or just take inspiration from. These ideas will give you a picture of what certain features can be incorporated to this part of your home and how will they be arranged so that your kitchen space is maximized without compromising ease in moving around as well as its aesthetic appeal.
With what you can find in the kitchen gallery of Tidewater Custom Modular Homes, there is no doubt that you can make home kitchen look modern without breaking the bank. Aside from having everything you think a kitchen needs to have, you can also have other features that are considered beyond the basics so it becomes not just a place for cooking but also for gathering with your loved ones over great tasting food.
To find out more about modular kitchen ideas for your dream home, contact Tidewater Custom Modular Homes.