Modular Home Construction Offers Various Options for Bathroom Customization – Smithfield, VA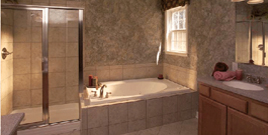 A lot of modular bathroom ideas can be incorporated when building your modular home. The way your bathroom is built can have a great impact to the overall value of your home so it is just right that you take time in designing it based on your functional and aesthetic requirements.
Because the design of your bathroom can dictate its overall mood and energy in this part of the house, the modular home construction in Smithfield, VA offers various options for bathroom customization. With both style and storage in mind, your bathroom can have tiled floors, colored walls, oval windows, modern vanity, bath tub, walk-in shower, adorned cabinet, stainless faucet, embellished mirror and more.
In designing your bathroom, you can either start from scratch or get ideas from the bathroom gallery on how to utilize and maximize such space from. It is best to think of what your loved ones might look for in a bathroom so it would be easier for you to decide what ideas to go for in customizing it. Besides, what is practical for your family would probably be practical for future buyers in case you decide to sell your modular home, so it would be wise to go with what works for your personality and the preferences of your family.
If you are interested in browsing various bathroom galleries to find out more about the features and fixture that can be added to your bathroom for your modular home, contact the experts of Tidewater Custom Modular Homes.