Modular Home Construction Makes You Say Yes to Modern Living – Suffolk, VA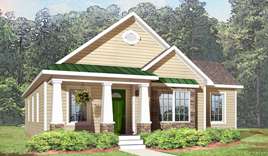 The sector of modular home construction has improved so much that it makes many homeowners say yes to modern living. It uses a mode of construction that allows for custom-building homes that are of the highest quality jam-packed with modernized features that help improve your home living experience, even if they are constructed at a faster speed compared to traditionally built homes.
The custom-built modular homes in Suffolk, VA are the perfect epitome of just how modular floor plans can be transformed to take advantage of the environmental, economical, and structural benefits of the state-of-the-art, factory assembly-derived construction techniques. Because of this, more and more homeowners are becoming interested in custom-building their homes using this time- and money-efficient approach.
It is easy to dream a home but it is a lot easier to design your dream home because you can simply choose a modular floor plan among the available selection of homes. You do not need to start from scratch as each modular floor plan has standard specifications that you can modify further in order to tailor-fit it to your specific requirements. This will result in a dream home that you can call uniquely yours.
To find out more about the advantages of modular home construction, contact Tidewater Custom Modular Homes