Modular Home Construction has a Completely New Take in Custom Building Vacation Style Modular Homes - Virginia Beach, VA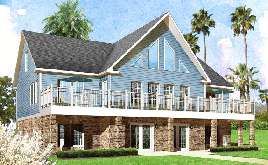 Modular home construction has a completely new take on building homes to fit different lifestyles. With the use of the latest technology such as a computer aided design software, you will be able to design your own floor plan, or choose one from the available selection of homes that you can redesign from the bottom to the top, inside and out.
If you plan to build a family-friendly living space that will serve as your weekend getaway home or daily primary residence, you have the option to custom-build a Vacation style modular home in Virginia Beach, VA. This floor plan is prominent of having huge windows that let natural lighting to come inside while allowing you to conveniently see the wonderful view outside. You can even include a large porch in the floor plan, where you can relax, perhaps read books, while feeling the cool breeze and being a bit sunlit.
The Vacation style floor plan is a great choice if you want to custom-build a comfortable home that has a unique feel as if you are just on vacation. You will have a home that is built to be both beautiful and functional. Because the floor plan of this type of home is flexible, it can generally fit even specific settings such as mountains and seasides. You can even maximize a typically smaller lot size and make it the permanent site of your modular beach hut, cozy cabin, family cottage, mountain home, or retreat house.
To find out more about your options in modular home construction, contact the professionals of the Tidewater Custom Modular Homes.