Modular Home Construction Gives Clients Customized Solutions to Custom-Build A Dream Home – Windsor, VA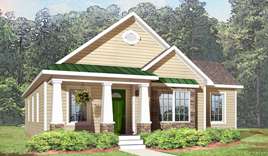 With modular home construction, anything is possible. The extensive selection of homes, interchangeability of parts, a wide array of options for customization...there is no doubt you will be able to build a home that is uniquely yours.
From the selection of homes, you can choose a modular floor plan that best suits your personal preference and other specific requirements. Modular construction is known to give homeowners customized solutions through its endless design configurations and possibilities. So if you are planning to build a dream home, you can always count on this flourishing sector of the construction industry in custom-building one for you and your family.
Owing a modular home in Windsor, VA has a number of benefits and you will get to enjoy them even from the start of the construction of your dream home. The modules of your permanent home will first be built inside a climate-controlled facility so that it will not experience delays during fabrication. Everything undergoes a thorough inspection before the sections of your home are brought to your chosen permanent sight. After everything is set, the entire newly built home will again be inspected so that you can be sure of its quality when it is time to occupy your dream home.
To find out more about the advantages of modular home construction, contact Tidewater Custom Modular Homes