Modular Home Construction – Custom-Building Homes that are Precision-Engineered In and Out – Windsor, VA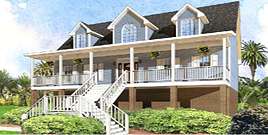 Modular home construction in Windsor, VA is now computer-engineered in order to address your specific preferences while meeting all national, state, and local building standards. With hundreds of floor plans available such as the Cape Cod, you can get started even if you do not have a definite plan yet in mind. In fact, with the ability of the computer to generate unlimited variations of a selection of homes, the design of your dream home is only limited to your imagination.
As with traditional methods, it would take longer months to build a Cape Cod. But today, a Cape Cod style modular home can already be built in a modern controlled environment with the use of high quality materials and state-of-the-art building technique. As a result, you will have a precision-engineered interior and exterior in weeks, not months. Also, such home construction process yields to a lifetime of trouble-free structural durability in your comfortable and convenient home.
It would be wise of you to visit us before deciding to invest in a home that may take the better part of your career to pay for. To find out more about the basic idea of the technological advances in modular home construction, contact the expert builders of Tidewater Custom Modular Homes.