Modular Home Construction: Building Luxurious Vacation Style Homes in Shorter Time and at Lesser Expense – Windsor, VA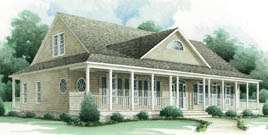 Nowadays, having your own vacation home is never far from reality. There are now fantastic and flexible modular home floor plans that you can choose and customize to your advantage, so you can build a home where you want to settle down when you have grown old or to spend a weekend away from a busy city. If you plan to build a vacation home, you might find some inspiration from our selection of homes.
The vacation style modular homes in Windsor, VA are offered in numerous layouts to fit any lifestyle. The multitude of options for fixtures, finishing, and other features that you can add to your future modular home makes it possible to tailor fit a home that specifically matches your unique preferences as well as the state's standard building requirements. This selection of homes continues to evolve as one of Virginia's most in demand modular home floor plans for the purposes ranging from relaxation, retreat, to retirement.
Imagine owning a vacation style home only after weeks of waiting instead of months. Why not build it through modular home construction in which your dream house will be ready for occupancy faster than it would with conventional home building? Aside from it is time-efficient, it is also cost-effective. You can have a luxurious vacation home even if you are limited in budget. The high quality materials are bought in bulk and kept in a secured factory-like environment so you can save on related expenses.
Having someone who could build you a home that can really make what you have in mind come to life is very important considering that it will be where you will retire or be spending a brief getaway. You deserve a home where you can feel fulfilled while you reminisce the good old days or free your thoughts from your workload. For more details about building a vacation home using modular home construction, contact Tidewater Custom Modular Homes.