Modular Floor Plans Pass both Your Taste and the State's Building Standards - Hampton Roads, VA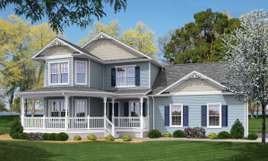 Before a manufacturer begins the construction process, the modular floor plans will be reviewed and approved in each state where they are intended to be sold. So you can be confident that you will be choosing among the available selection of modular homes that can pass not just to your taste but also to the state's building standards.
Modular home construction ensures that your dream home will be custom-built to the codes for the state where the separate housing sections or modules will be shipped for final location. The manufacturer has a contract with a state-approved third party plan review agency which conducts the review on behalf of the state and with a third party inspection agency that is licensed by the states to conduct permanent site inspection while the home is in production in the climate-controlled facility. So that once the modules are complete, these third party agencies will then place a label on the home thereby certifying that your modular home has been manufactured in conformance with all the provisions of the building code.
With the emerging advanced building technology, you will be able to build your dream modular home in Hampton Roads, VA that satisfies your unique preferences. The default features on the outside and in the inside of the modular floor plan are all products of thorough consideration about the many different needs of homeowners. You can simply add or modify some of them based on your specific requirements and unique preference.
To find out more about the other advantages of modular home construction, contact Tidewater Custom Modular Homes.