Modular Construction – Custom-Build A Home that is All About You – Smithfield, VA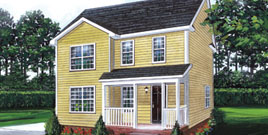 The expert builders at Tidewater Custom Modular Homes have perfected the process of custom-building a modular home in Smithfield, VA. Now, it will not be impossible to custom-build a home that is all about you. That means your preferences and other needs are considered so that you can have a home that you can call uniquely yours, a home that you will really enjoy living in because you know that it is custom-built with you as well as your family as the major consideration.
The modular home construction continues to be a flourishing sector in the construction industry, especially now that the expert builders have broken the negative perceptions about custom-built modular homes. You will be provided with a wide array of options for customization in order to ensure that you receive the custom modular home of your dreams.
The process of choosing to build a new home requires making many different decisions that are among the most important decisions you will ever make in your entire life. The expert builders at Tidewater Custom Modular Homes will help you throughout the process and will not just stop at helping you decide which modular floor plan will best fit your preference, budget, and other requirements.
To find out more about the advantages of modular home construction, contact Tidewater Custom Modular Homes