Modular Construction – A Leap Forward in Improved Building Quality – Windsor, VA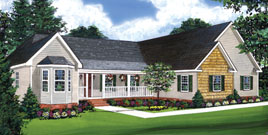 There are many different reasons why you should choose modular construction in Windsor, VA over conventional construction. And every year, new innovations make modular construction increasingly the best choice.
The modules or sections of each modular floor plan is custom-built in a controlled, off-site facility, typically simultaneously done with the preparations at the permanent site where these modules will be assembled together. This is the reason why the time of completion for modular homes is cut down drastically, resulting in great savings in both time and cost.
The modular construction sector is a part of the construction industry's leap forward towards improved building quality. There will be no delays caused by extreme weather conditions because every building process is accomplished inside the factory. It is fully secured and protected that even notorious thieves could not break in to steal premium cut materials. Despite its unmatched speed of construction, the high quality of the structures is still guaranteed. You will have a modular home that is not only custom-built based on your preference and specific requirements but also on the building standards at your location.
To find out more about the other advantages and benefits of modular home construction, contact Tidewater Custom Modular Homes.