Living Simply with The Craftsman Cottage II Modular Home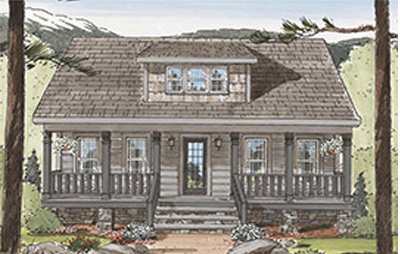 Anything that traditional home building can build, modular construction can build too. Any home that can be stick built can also be built with modular home construction in Surry, VA. These modular floor plans can be conveniently customized to fit the specific wants and needs of the owners.
Modular construction is very popular today because of its amazing benefits and advantages. They exceed the aesthetic and economic goals through faster, and remarkable, stylishness and craftsmanship. Modular home floor plans are available for Ranch, Cape Cod, Traditional Two-Story, Craftsman Cottage, Vacation Style, Estate Homes, and Timberland Series style homes.
Among them all is the well-loved modular home style called the The Craftsman Cottage II. Like its stick-built counterpart, The Craftsman Cottage II modular house is known for its distinctive, well-designed, and natural elements. This single-story home offers a total of 1,278 square feet of living area with 1 bedroom and 1.5 bathrooms. It features low steep roof lines, exposed wooden structures, and hand-crafted woodwork. This simple home is perfect for prospective homeowners who are looking into living in a beautiful and simple entry-level home. The living room comes up at 20' 0" x 12' 10" with an optional fireplace. The 13' 2" x 7' x 6" kitchen and dining area makes a cozy place to prepare and enjoy meals at. The 13' 0" x 12' x 10" master suite comes with a private bath in it. This compact design of a modular craftsman cottage showcases the beauty of function and form when combined.
To find out more about the advantages of modular home construction, contact Tidewater Custom Modular Homes.