Kitchen Island: Custom-Built for Food Preparation and Additional Social Space – Hopewell, VA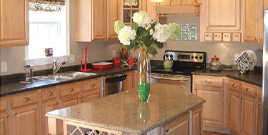 Modular home construction in Hopewell, VA can build a home exactly to your specification thereby granting you one that has the design and other details which you have imagined of a dream home would be. In case there is something you want to change in the standard specifications of the floor plan you choose, you can always do that regardless of what modular floor plan you want to use.
More often than not, the kitchen of a modular home is the place where customization is widely being done. If you are fond of cooking, it would be better for you to have more space that can be allotted for the needed preparation space. If you require an additional space to prepare for food or if your family members like to stay in this part of your home, adding a kitchen island would be even more practical. While it serves as a focal point in your kitchen at an instant, the kitchen island also provides a visual separation if you choose an open floor plan.
The kitchen gallery of Tidewater Custom Modular Homes provides you with a multitude of options for customization. With a kitchen island custom-built in your kitchen, you can have additional social space where everyone can talk about random stuff over tasty, home-cooked food.
To find out more about custom-built modular homes, visit the Tidewater Custom Modular Homes.