How to Choose Modular Homes – Virginia Beach, VA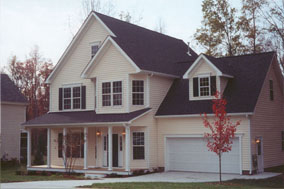 Modular homes can be an affordable and timelier alternative for people on a tighter budget.
Modular homes are built in large sections in a factory, then delivered and assembled quickly at the construction site. You can have your new house in weeks rather than months.
Because of the time savings and the efficiencies of constructing most of the structure in a modern factory, modular homes can be a great value for careful buyers.
Follow these tips to help you find a modular home that will fit your needs.
Your first stop is finding a qualified, licensed dealer who works with modular home manufacturers.
The best dealers are licensed general contractor who can handle all aspects of constructing your modular home. They will make certain that the modular home floor plan meets your specifications and budget.
Dealers oversee all aspects of putting your home together, which includes securing correct permits, foundation, plumbing, HVAC, electrical and carpentry work that will occur onsite.
Additionally, the best dealers will assist you with your lender and title company to ensure that everything goes smoothly for you.
The Modular Home Manufacturer
Once you pick a dealer, you can begin to look at styles of modular homes.
Each manufacturer has different options. There are sizes, floor plans and architectural designs to consider. Maybe you would prefer a one-story ranch, two-story home, Cape Cod or vacation style home. You can customize the look to meet your lifestyle and budget.
Because these homes are manufactured by using innovative technologies in a controlled environment, the result is a more precisely built home. Weather during construction will not impact the house.
Manufacturers purchase massive qualities of materials for their factories, so they pass their cost savings on to you.
Typically, production time at the factory takes about 6-8 weeks. The home will be delivered and placed onto your foundation. After that, the final process of construction usually takes two weeks depending on the home and job site.
Research the background and expertise of your modular home dealer and manufacturer. Look carefully at the features and design of the manufacturer's plans. Your hard work will result in a high-quality home built to last.
For more information on modular homes and modular construction, contact Tidewater Custom Modular Homes.
Herald Review