How Long Does It Take To Build A New Modular Home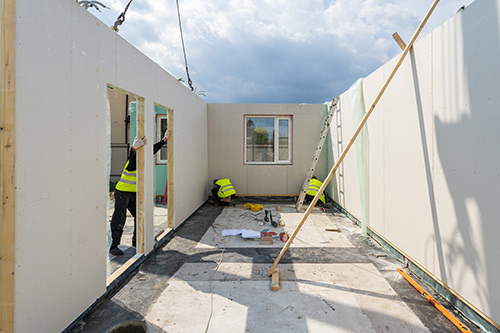 One of the questions we are asked frequently is "how long does it take to build a new house?" Though most home builders generally give you a 6-12 month estimated construction time, the answer really depends on a bunch of different factors...but the big one is "who is your contractor?"
At Tidewater Custom Modular Homes, we have special processes that help us to build a new home for you in a matter of weeks, not months. How do we do it? By Building modular!
Why is Modular Construction Faster?
Modular construction varies from traditional home building because our homes are built in a climate-controlled environment (i.e. a factory), which means that the main part of your home is being built offsite at the same time your foundation is being prepared. This can cut construction time almost in half!
Weather is always a factor, and though we can't do much about bad weather affecting the preparation of your foundation (whether it's a pier, crawl space, or full basement), we can promise that in climate weather won't affect the construction of the main sections of your new home. What Other Factors Play a Part in Construction Time?
Planning. As with any big project, the better you plan, the faster (and more smoothly) the execution will go. Some details we will have to iron out before construction include:
Where to live. The property you set your new home on will play a big part in the size and style of your new home, as well as what kind of foundation it will need.
Your budget. You don't need to head to the bank for pre-approval, but it's good to have at least a rough idea of what you can comfortably afford. This will help with the rest of the planning and financing stages.
Home style. Do you like the easy one-level living of a Ranch? Or maybe you prefer the classic American Cape Cod? You can check out the pros and cons of different home styles HERE, or stop by our office to walk through our selection of model homes to see what styles you like.
Floor plan. The floor plan is the detailed layout of your home. We can customize existing floor plans or create brand-new plans from scratch, depending on your needs and wants.
Materials/options. What kind of cabinets do you like? Do you prefer carpet or laminate flooring? What color and style of siding do you prefer? There are many options to customize your new home to fit your style and needs, and our experts can walk you through these decisions to help make your new home just right!
Financing. Our team works with many area loan officers who can help you get financing to build your new home. Financing is usually quick, but sometimes causes delays in ordering your home and getting the construction process started. Once the financing is finalized, we order your home and start the construction process.
Preparing the Land and Building the Foundation. This is really the only part of our process where weather may cause delays. Because the property needs to be cleared, the foundation dug, and the crawlspace or basement built on-site, exceptionally wet conditions can make preparing your foundation more difficult. However, we work hard to keep closely to our timeline and have your foundation ready when your home is finished and ready to be set.
Setting the House and Finishing Touches. Once your new home is completed in the factory, it is delivered to your property in modules and is usually set on your foundation in a single day. Then over the next few days, the outside of the house is completed with shingles and siding, while the inside craftsmen begin finishing drywall, trim work, seaming carpets, hanging light fixtures, and final touch ups. The final property improvements are also taking shape at this point, including utilities, backfill and final grading, and the addition of porches and garages.
So how long does it take to build a new home? As you can see, it depends on a lot of factors. But by using our processes and expertise, we speed up the process, so it takes about half of the time of traditional homebuilders, cutting construction time for 6-12 months into only 3-6 months.
If the thought of being in your new home in less than 6 months is exciting, then come talk to one of our experts, tour the model homes on our lot, and let's start planning your new home now! Contact Tidewater Custom Modular Homes!