Downsizing with Modular Construction Saves Money in all Areas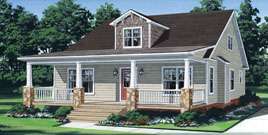 The housing market is heating up, but many people in Virginia are looking to downsize. The trend to downsizing has been spurred on for many reasons. Many are empty nesters, many are retirees, and many realize that it just costs too much to maintain a large home with space they don't use.

Are you interested in downsizing? If so, downsizing should not be synonymous with compromising. Moving into a new home should always be a treat, and when you build your own new home it is. A new modular home is the perfect solution for those looking to downsize. You can remain in comfort with the space and amenities that you need and want, but you can still move into a smaller home.

With modular homes, the floor plans can be customized, so even if you are an empty nester and the kids old bedrooms were used as office or storage space, you can incorporate that functionality into your modular floor plan just on a smaller, more economical scale.

If you are downsizing to save money on maintenance, utilities and taxes, modular homes also fit the bill. Modular construction is energy efficient construction. With energy star appliances, energy efficient windows, better insulation and efficient lighting you will pay less for the utilities in your home.

Most importantly, with a well built, well designed, brand new home, your new modular home will retain its resale value. When it comes time to sell, your home will retain its value. For more information on downsizing to a modular home, contact Tidewater Custom Modular Homes.