Custom Modular Ranch-Style Homes: the Easiest and Quickest Floor Plans to Finish on Site – Virginia Beach, VA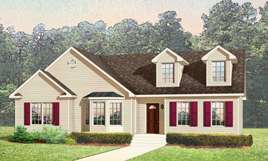 Ranch style modular homes are the easiest and quickest floor plans to finish on site. This selection of homes is intended for single story living, but you can simply build a second floor on the current level if you needed more space. Think of the available floor plans as starting points. They are there to guide you if you do not have initial plans yet of what you really want to include in your dream home.
Ranch modular homes in Virginia Beach, VA can be customized based on your personal preference. You can choose whether to have 2 or 3 bedrooms aside from the master suite like the Austin. If you are fond of cooking or love hosting parties, then you can have a spacious kitchen that communicates naturally into a hospitable dining area and family room like what you see in the Avon.
The features in the standard building specifications of custom-built modular homes are so flexible that you can do certain modifications that will enhance your living experience in your new modular home. You can change the size of the other rooms of the house if there is one area of it you want to highlight like a central living room perhaps.
The code compliance of modular homes is the same as the site-built homes. To find out more about it, contact Tidewater Custom Modular Homes.