Custom Designed Modular Homes are More Popular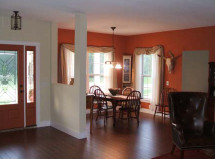 Modular homes from Tidewater Custom Modular Homes are catering more and more to high-end homebuyers with customized, amenity-filled homes.

Homeowners in the Virginia who want to design and build their own homes are building modular homes because modular is just as luxurious and just as sturdy as traditionally built homes, or more so. However, modular homes are built faster and in climate controlled factories, facts that many who are building homes like.

When folks choose to build a home, they want a custom home. They are building because they want a new home, but they want a new home that fits their needs, their hobbies and their families. Most new home builders do not want a cookie cutter home. They may want a cape style home, but they may want one with an extra bedroom, a studio, or a wine cellar.

With modular construction, buyers can choose from standard home floor plans and make changes as they see fit, or they can work with an architect to have a home designed that can then be adapted for modular construction.

For more information on building a custom designed modular home with amenities, contact Tidewater Custom Modular Homes.