Custom-Built Modular Homes: Building Exceptional Homes for the Distinct Interests and Needs of Homeowners - Chesapeake, VA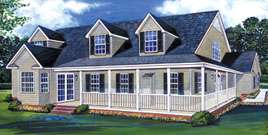 In Chesapeake, modular homes not only comply with local rules and regulations regarding home construction, but also conform to the varying preference and specific requirements of interested homeowners. To ensure overall quality and safety, these sectional prefabricated structures are systematically inspected by a production line supervisor, an independent third party inspector, and a local building inspector before you take occupancy.
Custom-built modular homes come in several styles and sizes. They consist of multiple modules that enable unique customization of many home styles. Given this, homeowners are able to take advantage of the flexible modular floor plans in which you can choose what features and fixtures to include. While they are prefabricated in a controlled environment inside the factory, these homes are still considered a permanent structure and real property.
Modular homes in Chesapeake, VA have no real design limitations. In fact, they can be designed and built for future expansion. Any floor plan that is close to the style you like can be modified in many different ways and elevations. The only limitation is what you are able to conceptualize for your specific requirements.
Building exceptional homes for the distinct interests and needs of homeowners is possible at Tidewater Custom Modular Homes.