Custom-Built Modular Homes and Their Excellent Exterior Options - Chesapeake, VA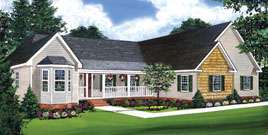 Your home is one of life's largest financial commitments. You pour a great deal of not just time and money to it, but also care and energy. So you want to create a style you surely will not regret by taking advantage of being able to completely customize your flexible modular floor plan. You may start by giving your exterior an added character.
Adorable door
The front door of a modular home in Chesapeake, VA is primarily functional, not decorative. However, this does not mean that you are just going to leave yours plain and boring. So design your door without jeopardizing its main purpose. Choosing a uniquely designed front door is one inexpensive way to set your modular home apart form the rest of the houses built around you.
Right Roofing
A roof protects one of your biggest investments – your home. A custom-built modular home always has a durable roof that is built on the industry's most reliable roofing material available. It is just right that you pair such durability with beauty. Give your roof a striking look by using classic shades and having dimensional appearance of natural wood or slate.
Striking Siding
The siding of a modular home are built such that your home will have quality good looks made to last for life. The facade of your home often dictates the first impression that we all know can last a lifetime too. So give your best shot by giving it one appealing silhouette that looks more beautiful as one comes closer and see the details of your siding.
Tidewater Custom Modular Homes can provide you a home that is like no other, a home that can stand out from the crowd.