Custom-Built Modular Homes, a Perfect Option for First Time Homeowners – Yorktown, VA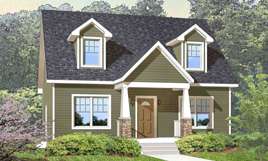 The most obvious of advantage of modular homes in Yorktown, VA is that they can be any type of floor plan. This means that while personal preferences and specific requirements may vary from person to person, everything is possible to be incorporated in one home. For this reason, it is a better option for first time homeowners.
Apart from a much lesser time of construction and a more convenient future modification, you will also benefit from a wide range of options to custom-design your dream home. Given such flexibility, you can even modify the modular floor plans to make it a reality what you have just imagined your house would be. It is also alright if you have not yet thought of a particular design as the selection of homes are made available to help you make up your mind. All you will see are very beautiful model of modular homes that are significantly lower in cost but legitimately high in quality.
As a first time buyer, it is ideal that you have a great representation and someone who is equipped in working with first time buyers. This is because you will have lots of questions and suggestions as you go through the process of planning and construction of your own custom-built modular home. You want to have someone who will take the time to listen to your concerns and show you everything you have to know and consider about such undertaking.
To talk with a safe and refutable home builder, contact Tidewater Custom Modular Homes.