Craftsman Cottage II Modular Home – Perfect if You're Going Solo – Yorktown, VA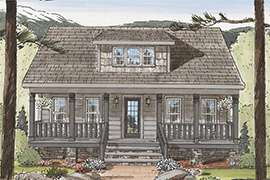 Modular home construction in Yorktown, VA also offers bungalow-type floor plans. They are also more commonly referred to as Craftsman Cottage or Arts and Crafts style homes with typically one or one and a half stories and low-pitched roof.
If you are going solo and are actually looking for a bungalow-type home that only has 1 bedroom, then you might want to look into the Craftsman Cottage II modular floor plan. This 1,278 sq. ft. house is jam-packed with amazing features that every homeowner would need and want in order to ensure an enhanced home living experience.
Craftsman Cottage II modular home has an artsy exterior. It uses multiple exterior finishes such as shiplap sliding and cedar shakes. It has pillars that frame the front porch. The 3-step stairs also adds character to the exterior. You can also find 2 glass windows at both sides to highlight the main door at the center.
The interior of the Craftsman Cottage II modular home is strategically designed in order to maximize the indoor space. The master suite has its own dedicated bath that can only be accessed when you are inside the room. The other ½ bathroom is found at the right side of the foyer and can be accessed by anyone. The living room is separated from the kitchen space and dining area through a raised bar. The living room also has a space allocated for the fireplace just in case you are planning to have one inside your cottage.
To find out more about Craftsman Cottage II modular home, contact Tidewater Custom Modular Homes.