Cottage Style Modular Homes - Custom-building Homes that are Truly One of A Kind - Hopewell, VA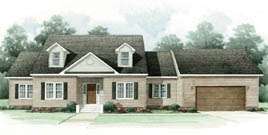 Among the selection of homes available from Tidewater Custom Modular Homes, the Cottage modular homes in Hopewell, VA have become some of our most popular choices for either single-living or small family households. They are an economical modular floor plan for many prospective homeowners because of their flexible features that can easily be modified to custom-build a safe and relaxing abode.
Like the other modular homes in Hopewell, the Cottage style homes are built with the desires and goals of the interested homebuyers above all else. You will be provided with design resources to assist you with the selection, planning, and customization processes. A Computer Aided Design software will be used in order to allow you to design a cottage modular home from the bottom up, whether you want to make a beach cottage, a mountain resort, or any vision you want to translate into a new custom home. Given several options for most features of a home, the standard specifications can be customized to make your home truly one of a kind. The final layout can be viewed by the homeowner before the construction process even begins thereby allowing for changes to be made if deemed necessary.
With modular home construction, you can start on the path of building and owning your dream home. There are yet other selection of homes to choose from aside from the Cottage style homes, so that you can really choose and customize a modular floor plan based on your basic requirements and personal preferences.
To find out more about your options, consult the expert builders of Tidewater Custom Modular Homes who are willing and able to make your dream home become a reality.