Chadwick Estate Style Modular Home Offers Magnificent Curb Appeal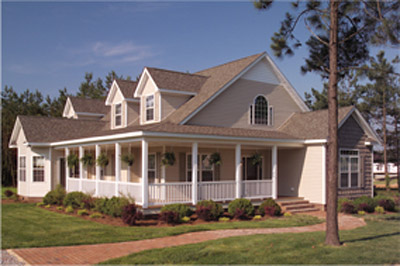 Most of us invest more time tending to the inside of the home than maintaining the outside of the home. But we all need to stay on top of outside maintenance primarily because what your home looks like on the outside reveals a lot about those who live inside.
The curb appeal of a home adds value, both financially and increases the value of personal pride. Chadwick Estate Style Modular Homes present a superb exterior appeal and can be customized to fit your own personal style .
These modular home that we build here in Yorktown, VA has dormers or small roofed structure protruding outward on an expanded sloping roof which provides uniqueness to your home exterior. This hallmark is adopted from traditional Cape Cod style modular homes. Beyond aesthetic in purpose, dormers provide ventilation and lets natural light enter the attic space. They have beautiful angled roofs which are absolutely striking especially when its color perfectly matches the sidings. For windows, homeowners may go for modern style or the classical bow windows for an elegant Victorian charm.
Moreover, the wrap-around porch of this estate style modular home is an exquisite feature which makes the house highly functional for outside living. It provides an extra spot for relaxation and a welcoming atmosphere. Regarding doors, there are vast options available ranging from rustic to stylish modern door panels.
These features give The Chadwick modular floor plan extra uniqueness and elegance. To find out more about these estate style modular home, contact Tidewater Custom Modular Homes.