Cape Cod Modular Homes – Find A Lot in A Little Floor Plan – Windsor, VA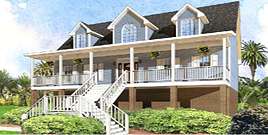 The Cape Cod style modular home is continuously growing in popularity. It has been around for centuries but modular home construction has given it a twist so that more first-timers who are budget-conscious , or for small families who are looking for inexpensive starter homes , can enjoy the benefits of owning it.
Cape Cod style modular homes in Windsor, VA are characterized by steep pitched roof, half-height knee walls, and full gable end walls. A chimney is often located at the center but there are newer variants that move it closer to one side. With an improved building technology, home insulation and air sealing that need a more detailed work are no longer a problem now.
You can find a lot of wonderful features in the Cape Cod style floor plan. Its compact layout can accommodate up to four bedrooms and three bathrooms. You can even choose to have a second floor and accommodate bathrooms on both floors. There are actually a wide array of options for customization that will help you create a home that reflects your values and lifestyle.
Owning a home provides you with independence and more privacy than when renting one. To find out how you can have an even better home living experience, contact Tidewater Custom Modular Homes.