Benefits Living In A Custom Modular Ranch Home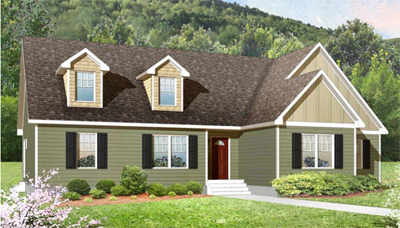 If you can dream it, we can build it! We welcome custom designs that many home buyers associate with traditional on-site construction. Begin with a standard plan or a sketch of your favorite home design. From there, you will incorporate the right size of your needs and budget. And we will work with you on building the custom ranch home of your dreams.
There are many amenities you can choose from, including hardwood or ceramic floors, granite counter tops, custom cabinetry and modern kitchens. These options will make your custom modular ranch home the perfect match to your budget and tastes. A traditional or modern look can be adapted to your custom ranch home depending on your preferences.
More benefits living in the modular ranch houses are strength and durability. In addition to requiring less time to complete, modular ranch homes are also stronger and more durable. They are constructed using name brand quality materials and modern construction techniques. If you are living in a location prone to hurricanes, tornadoes and earthquakes, the strength of modular ranch homes will work to your advantage.
All modular components are built in our factory to the highest standards of quality. We built in an eco-friendly controlled indoor environment to eliminate the possibility of mold or dust accumulation during the construction process. Using modular components, the construction timeline is minimized, reducing environmental impact.
Our modern designs incorporate energy-saving techniques aimed at keeping your heating and cooling bills significantly lower than traditional homes. Modular Ranch Homes are a popular choice with energy-efficient features, contemporary accents and the freedom to customize your home. Think of the design as useful starting point for your custom ranch dream home. It is easy to customize your home to better suit your unique lifestyle.
If you are looking to build a custom modular ranch home, we are your single-source solution. We work with trusted local contractors who speed up the construction process with meticulous attention to detail. Let us help you take the next step to build the modular ranch home of your dreams.
In a nutshell, the custom modular ranch homes we built are stronger and more durable using higher quality materials. It is energy efficient and the construction process is environmentally friendly. It is built to the same building codes as site built homes. And as well-built faster which saves you money on your construction loan. And to top it all, it is a great investment, saving you time and money without sacrificing quality.
For more tips on custom ranch homes, contact Tidewater Custom Modular Homes.