Beautiful Modular Kitchen in Virginia Beach, VA
We thought we'd focus the next few blog posts by displaying examples of the luxury living solutions that we deliver throughout Virginia Beach, and the entire greater Hampton Roads Virginia area. Here's a stunning picture of a customer's modular home who designed their custom modular home around their kitchen. As so many new home buyers do, this home design started with the kitchen then the rest of the house built around it. We can certainly see why.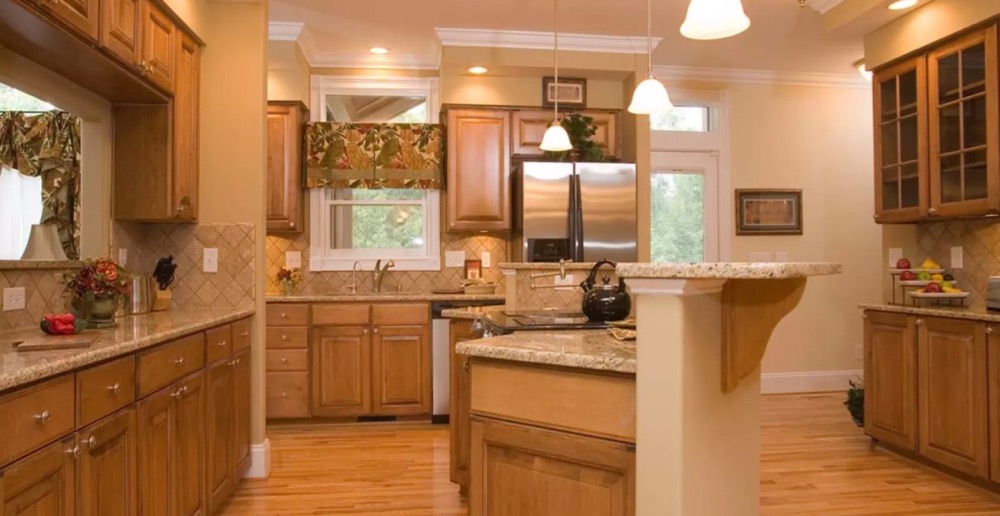 Look closely. Can you spot the differences between this modular home's kitchen from that of a traditional "stick-built" kitchen. No? Well that makes perfect sense because the feature that make modular construction superior to stick-built construction are invisible to the naked eye. The modular home construction's structural integrity if far superior to stick-built construction. But let's get back on point here in discussing this particular kitchen.
This kitchen's fixtures and accessories were sourced from industry-leading product designers and made from premium-grade materials. Like traditional kitchens, this particular modular kitchen incorporates the features that we incorporate across our modular home kitchen portfolio. Based upon the buyer's desires, they are most often equipped with raised-bar granite countertops, stainless steel appliances, custom crafted cupboards, overhead cabinets with glass doors, and under cabinet lighting. In this example, take note of the stylish valence above the kitchen sink between overhead cabinets. Check out the clever use of downlighting from the ceiling. This modular kitchen is stunningly elegant and it can be built for you right here in Virginia Beach!
See one or two things that you would do differently here? That makes sense to us as well as no two buyer's requirements are exactly the same. Let's go to work modifying this kitchen to your specific wants and needs. The point here is that there is a reason why the word "custom" is embedded within our business' name. We build custom modular homes specifically designed to meet each and every element of your discerning need.
For more information about how a custom modular home just might be the perfect choice for you, contact Tidewater Custom Modular Homes.