Azure Bay II Cape Cod Modular Homes Make a Perfect Starter Home – Suffolk, VA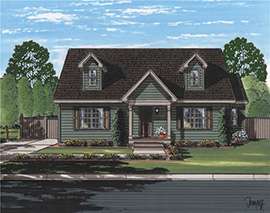 Cape Cod homes are a traditional style home that has evolved over hundreds of years, Now there are several variations of this popular home style. And now, modular home construction offers Capes to homeowners that can cater to their varying needs.
Among the Cape Cod style modular homes in Suffolk, VA, The Azure Bay II is the most widely chosen floor plan. This is because this 1,350 sq. ft. Cape Cod offers amazing features that any homeowner would love to have in their home. This modular floor plan even offers the option to include a crawlspace.
The Azure Bay II Cape Cod style floor plan has 2 bedrooms and 2 bathrooms. The Master Suite is seated next to the living room. It has a dedicated bathroom which is spacious enough to include a bath tub. The smaller bedroom is separated from the Master Suite by the kitchen and dining space which opens towards the living room. The main bath is strategically located adjacent to the smaller bedroom to also be accessed by family and guests in other parts of the home. With these features the indoor space is strategically allocated for maximum usable space. If you are looking for a starter home, The Azure Bay II Cape Cod style floor plan is a great bet.
To find out more about Azure Bay II cape cod style modular home, contact Tidewater Custom Modular Homes.