Attributes of a Modern Modular Ranch Style Home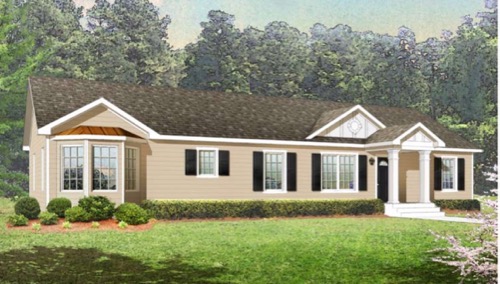 The American Ranch is one of the most popular domestic architectural styles in the United States. It features a near-ground profile which stretches in a landscape layout. Ranch-style homes integrated modern concepts and design with the American western impressions to contrive a non-formal and casual living style.
Modular construction has adopted the American Ranch style homes in a more rectified design. Let's take a closer look to one of our modular ranch-style homes --- The Lowesville. This charming ranch is certainly a head turner due to its tremendous curb appeal and alluring floor plan layout. It offers 3 bedrooms and 2 full baths. It offers a unique living/dining room combo and a kitchen with a convenient layout.
To make the modular ranch-style home even more appealing, you may opt to install a bay window with copper metal roof, reverse gable with board and batten siding and decorative gable vent, an on-site built porch on top elevation, an optional 2-4' dormers, 1-8' dormer, on-site built porch on lower elevation.
If you think this the right modular home style for you, contact Tidewater Custom Modular Homes. We can give provide you a more elaborate detail regarding to the specification of this home style.