ASHLAND – A Ranch Style Modular Home with Spacious Living Wing and Sleeping Wing – Hampton Roads, VA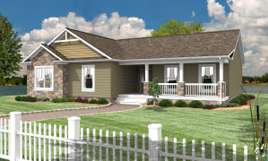 The modular home construction industry caters to many different homeowners. It even provides floor plans for those people who are interested to custom-build a starter home.
Ranch style modular homes in Hampton Roads, VA are dubbed as great starter homes due to their cost-effective construction. Ranches, or ramblers as they are sometimes called, are wider than they are deep because they only have a single story. However, they may have an unfinished upstairs or a finished basement just like what you can see in The Ashland ranch style home.
The simple Ashland ranch style floor plan is divided into a living wing on the right and a sleeping wing on the left. The kitchen and dining combo with flush bar and pantry, and the living room are found at the living wing. A foyer connects this wing to the sleeping wing where the 3 bedrooms and 2 bathrooms can be found. The largest bedroom among the three has its dedicated bathroom and walk-in closet, while the two smaller bedrooms share a common bathroom and are separated from the largest bedroom by a utility room where the washer and dryer space are located.
To find out more about Ashland ranch Style modular home, contact Tidewater Custom Modular Homes.