Applewood II Ranch B Modular Floor Plan Gives Traditional Ranch Styles A New Definition – Suffolk, VA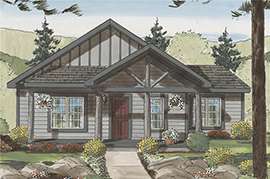 Modular home construction continues to improve on its craft providing more options for customization and improved modular floor plans. This flourishing sector of the construction industry still makes use of old styles of homes but gives them a twist to make them more enticing and useful for the target market of the modern days just like what you can see in the Applewood II Ranch B modular floor plan.
Ranch style homes have been around for decades and decades, but the Applewood II B ranch style modular home in Suffolk, VA give this traditional style of home a new definition. The Applewood II Plan B has 3 bedrooms and 2 bathrooms which are actually perfect for a big family or those living with old people who can no longer climb up the stairs.
You can say that the indoor space of the Applewood II Ranch B modular floor plan is optimized. All the bedrooms in this floor plan is placed alongside each other, giving the living room a larger space for family bonding, quality time, and relaxation. The living room also opens towards the kitchen which is just adjacent to the dining area. This kind of arrangement makes it easier for people to access every area of the Applewood II Plan B more conveniently.
To find out more about Applewood II Ranch Plan B and other ranch style modular floor plans, contact Tidewater Custom Modular Homes.