A Traditional Two-Story Modular Home, The Oyster Cove, is Great for Aging In-Place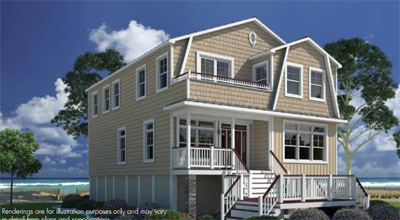 Modular home construction offers a wide array of options for customization. In fact, this sector of the construction industry offers both single- as well as traditional two-story modular floor plans in Hampton Roads, VA, one being The Oyster Cove.
If you have a large family and are interested in two-story floor plans, then the Oyster Cove traditional two-story modular home may be your best bet. This 2,692 sq. ft. floor plan has 4 bedrooms, one of which is downstairs. This is the perfect floor plan for families who have three generations living in one home. Aging parents can have a bedroom downstairs and age-in-place.
They Oyster Cove is just one of the two-story modular home floor plans which can be built through modular home construction. Interested homebuyers can be confident that when choosing this two-story home, modular home construction means the home can be customized to meet the needs of all generations living in the home.
To find out more about two-story modular floor plans, contact Tidewater Custom Modular Homes.