Ranch Style Modular Home: Simple Yet Beautiful – Windsor, VA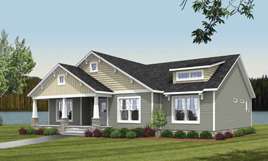 With the fast-growing popularity of custom modular homes, modular home construction has been showing more homeowners the benefits and advantages of choosing this innovative alternative. It has also caught the interest of contractors and homeowners alike, which is no surprise. Despite using advanced construction technology, it is also a less expensive way to build a home without leaving craftsmanship and aesthetic qualities behind.
The ranch style modular homes in Windsor, VA showcase the great beauty and style that modular home construction has to offer. In modular construction, materials are safely housed in a factory-like setting. In this highly restrictive environment, materials are protected from decay, deterioration, or theft. Weather does not pose a threat to the building materials. As a result modular construction is cost-effective. As a result, custom modular home construction is more economical compared to traditional or on-site construction, both in time and money.
Ranch style floor plans are one of the most well-loved custom modular homes. Just like its traditionally constructed ranch homes, the distinctive characteristic of a ranch is its one-story floor plan and minimalist exterior. The big difference between modular ranches and those that are traditionally built lies in the fact that Ranch style modular homes can easily be altered or modified. For more information on modular ranch style homes, contact Tidewater Custom Modular Homes.