Ranch Style Modular Homes Use Indoor Space More Efficiently – Richmond, VA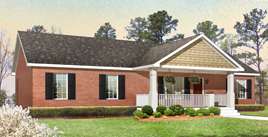 Ranch style modular homes in Richmond, VA provide a whole new experience in single-story living. The features that make traditional ranches desirable have been improved by incorporating the advanced building technology of modular construction.
The ranch style floor plan is strategically designed to provide more space to homeowners. It should be emphasized that two-story homes do not necessarily mean more space because staircases can severely limit the amount of indoor living space. Single story homes may be smaller in terms of square feet but homeowners can use the space more efficiently.
Modular home construction has provided options for customization for interested buyers. If you want to own a ranch style modular home, you can customize its features based on your specific needs and preferences. For instance, when living in a one-story modular home, life can be easier with no stairs, both with young kids and as you age.
To find out more about ranch style modular home, contact Tidewater Custom Modular Homes.