The Creedmore Cape Cod Modular Home is a Thing of Beauty – Williamsburg, VA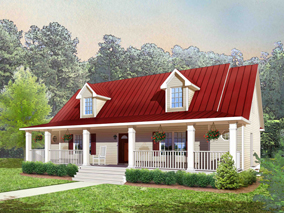 The Cape Cod style home has been popular for years because of the numerous benefits it offers to a wide range of homeowners. This is why it remains one of the most commonly chosen home styles especially for homeowners who are looking for classic New England appeal in a modern home. This also explains why the Cape Cod is regularly being improved upon and commonly built via modular home construction in Williamsburg, VA.
Symmetry defines the design of the Cape Cod home, from the sloped roof, windows, doors, door hangers, shingles, and more. Actually, the sloping roof also prevents snow build-up which is one of the facets that makes them popular in cold climates as well. However, However, modular construction has effective means of improving its design to make The Cape Cod home more appealing even to those homeowners living in other areas.
Take a look at The Creedmore Cape Cod style floor plan for example. It offers the pitched roof as well as an optional three-dormer design and stunning front porch. The dormer at the center aligns with the front door. The other two dormers align with the two front windows on either side. This modern design of a traditional home style can appeal to more homeowners especially those who put value on the exterior features and aesthetic appeal of their home.
This 2,300 sq. ft. Cape Cod house has four bedrooms and three bathrooms that are strategically located to maximize space and home living experience. Modular home construction offers a wide array of options for customization so that homeowners can custom-build The Creedmore Cape Cod style home. With modular construction, new owners can call the home uniquely theirs because it can be built with their specific requirements and preferences in mind.
To find out more about Cape Cod style modular floor plans, contact Tidewater Custom Modular Homes