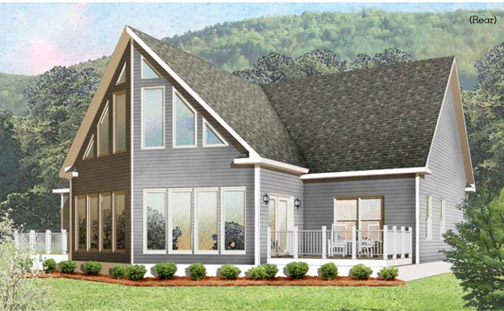 With busy and often stressful daily work routines, would't it be nice to come home to a vacation everyday? Vacation style modular homes are a great home design for a relaxing atmosphere where you can de-stress every day.
For sophisticated homeowners, who are fond of over-sized glass windows, high ceilings, and other eye-catching features that create tranquil ambiance, Cypress Creek vacation style modular homes are the perfect home style. Designed to provide a panoramic view of the outdoor scenery, you can have a furlough anytime in the comforts of your home. In addition to the great views, these homes have an exceptional exterior design and stunning rear elevation. This unique home style can bring in the outdoors to help you relax and unwind everyday.
The Cypress Creek modular floor planincludes a spacious kitchen and large rooms with cathedral ceilings. With three large bedrooms and 2.5 bathrooms, your family will be comfortable with the space they need to unwind. The master bedroom has a secluded patio deck that is a perfect spot for reading and relaxing.
To learn more about this unique modular home design, contact Tidewater Custom Modular Homes.
Comments (0)
|
Trackbacks (0)
|
Permalink
|
|