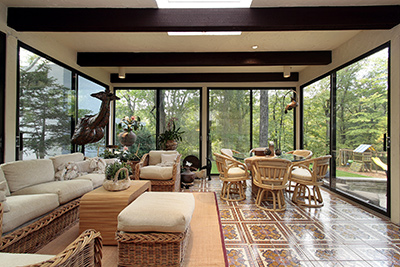 Improving your home through home addition can be a stressful undertaking. Many homeowners are shocked dismayed when they learn about the long project time required by traditional stick-built contractors. But long construction upgrades to your home can be a thing of the past. For homeowners who want remodeling and expansion done fast, they can get it via modular home construction upgrades.
Modular additions offer a quick method of adding new structures or home extensions. It can cut the total construction time in half by utilizing hi-tech machinery that expedites both the design and manufacturing process of modules. The construction process guarantees precise results. This construction approach can be applied to homes that are not originally designed and constructed with modular technology. It presents a more affordable building cost since the labor time is shortened.
We build an entire modular home in modules at our high-tech factory. Once the modules are ready, we haul it to the site and assemble. This means less mess, noise and disruption to your daily activities at home while the new structure is being built. In terms of the quality and durability of the new home addition, modular home additions in Charles City, VA are guarantee to exceed all existing local and state building codes. Of course the quality of your future modular structure will exceed any and all stick-built alternatives.
Looking at these advantages, modular construction present a more practical building option. So if you are thinking of redesigning your home and want to utilize it right away, consider modular upgrades. Contact Tidewater Custom Modular Home to help you reinvent it.
Comments (0)
|
Trackbacks (0)
|
Permalink
|
|