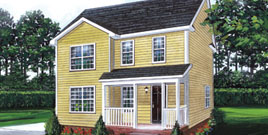 Modular home construction appeals to a lot of younger or new homebuyers because it provides them with more choices when it comes to floor plans. There are a wide range of options for customization that are available in these floor plans which allow homeowners to make their homes personal while remaining in budget.
Many young professionals want to buy a home once they have established their career. Now they have the choice to custom-build a modular home in Suffolk, VA. Because precisely cut and premium-grade materials are used in building each module, interested home buyers are guaranteed a home that is aesthetically pleasing, fully functional, and energy efficient.
Investing in a modular home is a practical investment to consider for home construction. For one, modular construction allows people to make building their dream home a reality with significantly less time and money. These benefits in particular are a big advantage to young adults who are preparing for their future. Every modular floor plan is transformed with the homeowner's unique requirements in mind using streamlined processes for a faster completion time without jeopardizing quality.
To find out more about a custom-built modular home, contact Tidewater Custom Modular Homes.
Comments (0)
|
Trackbacks (0)
|
Permalink
|
|