A truly unique floorplan. That's just one benefit you can get when turning to a modular home construction. Let's check out this brilliantly unique living room below.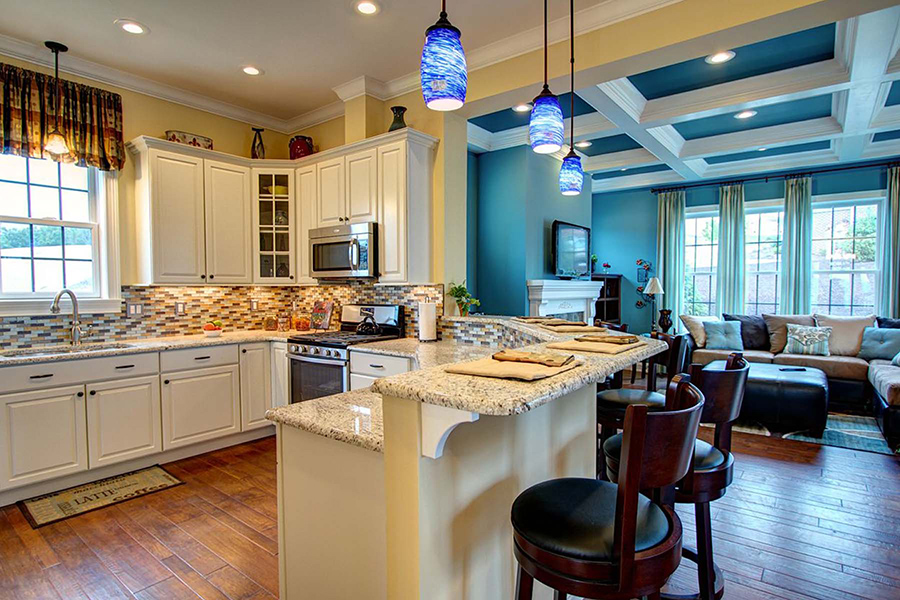 The design is a fusion of both modern and classic architecture. With modular construction, your design options are endless. This wonderfully beautiful and functional living room features a large stationary window that enables maximum light and views of the outdoors. The living room is painted with aqua blue and accented it with white paint. It uses a modern style downlights with bluish-purple art color that perfectly complemented the shade of the walls. The living room is the spot in your house where you can sit down and relax and this design perfectly nailed its function. Indeed, it has an oceanic ambiance. Cool, calm, serene and tranquil. This is how you might describe this living room.
Another unique feature of this modular house is how they use a contrasting color in the kitchen room. See how lit up the kitchen side of the house with its soft yellow shade. And if you check the kitchen features, it is complete with all the necessary stuff a kitchen must-have.
Indeed, modular construction lets you achieve a one-of-a-kind home. Contact Tidewater Custom Modular Home and let us know the design you have in mind for your dream home and will help you materialize it.
Comments (0)
|
Trackbacks (0)
|
Permalink
|
|