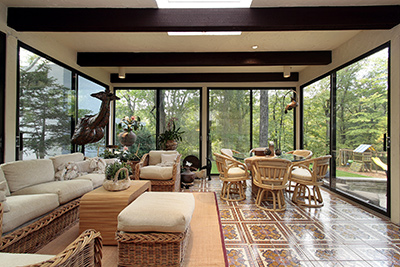 Expanding your living space is a perfect spring home improvement project. But if you are in a tight fiscal and/or time budget, traditional home additions can be costly and seemingly take forever to finish. That's not the case with modular home addition construction Modular home additions offer a more affordable and faster build-out option as compared to traditional stick-built home additions.
Home owners often become frustrated as soon as they see the estimated cost and timeline of their home addition project. The same stick-built construction delays plague the new home builder plague the home addition builder as well. Weather, material delivery, and competence (or lack thereof) of the builder itself present predicable challenges for the build-out to complete on time and on budget. On the other hand, Tidewater Custom Modular Homes' modular approach present a more affordable and faster solution for home expansions and improvement. Since precision craftsmanship associated with automated construction within the modular home manufacturing process, your exposure to the aforementioned drawbacks is dramatically reduced. We are proven home builders with a rock solid record of delivering your new construction or improvement on time and on budget.
So if you are opting for modular home additions, contact Tidewater Custom Modular Homes.
Comments (0)
|
Trackbacks (0)
|
Permalink
|
|